Hello!
Plenty of excitement around the shop this week as we brace ourselves for British Comics Month, our upcoming series of events celebrating homegrown talent and publishers. Unfortunately, the I.N.J. Culbard launch party for Celeste had to be delayed until April (announcement soon), but there's a silver lining: it's been replaced (same day, same times), with the launch party for a new Myriad book – Bump by Kate Evans.
Have a look at the full line up and details here.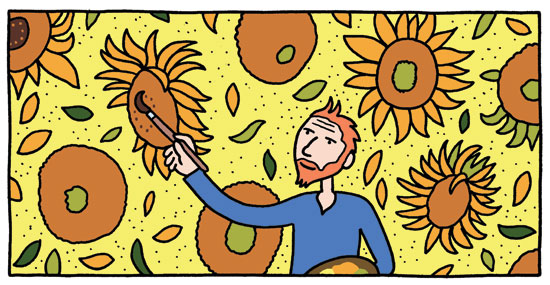 One of the publisher's we'll be spotlighting is SelfMadeHero, who supply a constant stream of wonderful books for us to enjoy.
This week sees the arrival of Vincent, Barbara Stok's tale of Van Gogh's attempts to establish an artist's retreat in Arles.
It's the latest in SelfMadeHero's Art Masters imprint following Typex's Rembrandt and looks to be another winner.
There's a preview here.