Hello!
Two great events coming this week. First up the Friday the 17th from 7-9pm, we've got the return of the mighty Comic Book Slumber Party with their new Avery Hill-published anthology Deep Space Canine. We'll have a whole pack of CBSP creators in for the evening (including our old pal Hannah K Chapman), so come down and join the party! Details here.
Then on the following Tuesday the 21st, we've got the one and only Greg Pak coming down to sign from 6-7pm! Take advantage of the opportunity to meet this brilliant comics writer, the mind behind the classic Planet Hulk, as well as his new series Kingsway West and Totally Awesome Hulk! Details here.
And the next day Paul Grist will be joining us for a signing of The Visitor: How and Why He Stayed #1 on its release day of Wednesday the 22nd February, 6-7pm. Check here for more details.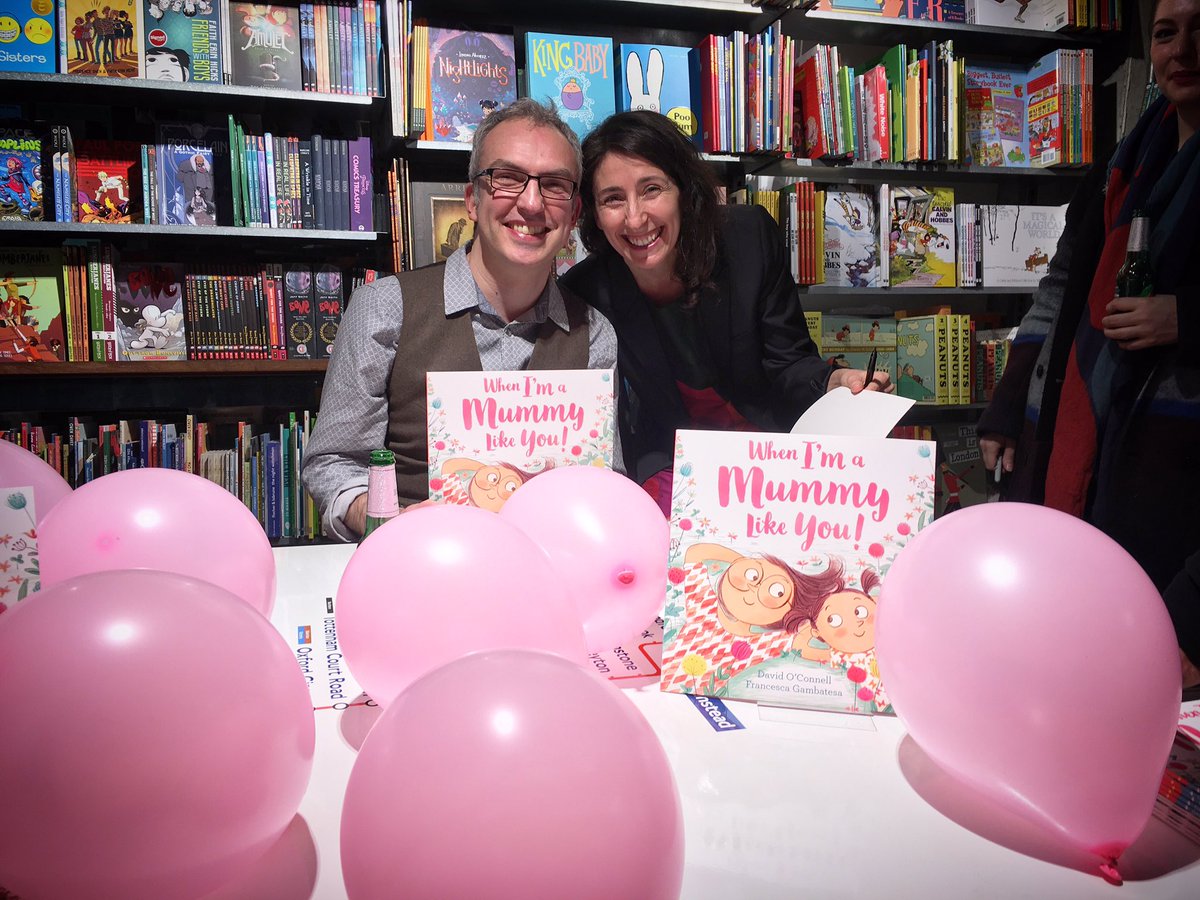 We had a couple of corker events this past week.  David O'Connell and Francesca Gambetesa were here Thursday evening to launch their new kids book When I'm a Mummy Like You. It's a really wonderful wee book and the follow up to their previous collaboration When I'm a Monster Like You, Dad. We still have a handful of signed copies left for anyone who may have missed out on the night.
Then on Friday was our monster 2000AD 40th anniversary signing with Pat Mills and Kevin O'Neill. The packed house meant we sold out of their brand new satirical crime novel Read 'Em and Weep Book One: Serial Killer! We also launched our 12th and final 30th Anniversary print, Nemesis the Warlock, which sold out in pretty sharp order!

This week also announcement of our upcoming bookplate edition for the gorgeous first collected of Henchgirl. You can pre-order a copy online here, or send us an email to info@goshlondon.com to be added to the in store reservation list.  We are also running a competition for one lucky customer to win the original art from our Henchgirl bookplate! Scope out all the contest details here.
HIGHLIGHTS THIS WEEK
Seven To Eternity TP 01
Writer: Rick Remender
Artist: Jerome Opeña
Yet another staggeringly good, must-read Image series from one of our favourite contemporary comic writers, Rick Remender. Seven To Eternity sees him re-teaming with his long-time collaborator  Jerome Opeña (the duo having previously worked on Uncanny X-Force and Fear Agent) to bring us a brand new fantasy / sci-fi hybrid. Drawing inspiration from places as varied as The Never Ending Story, The Walking Dead, Princess Mononoke and Krull, Seven To Eternity feels fresh and new whilst having a folklore like quality to it. The kind of dark fantasy adventure that as a child you'd half watch through your fingers on a rainy Sunday afternoon, beautifully realised by Opeña in his unique, signature style to craft a world wholly alien yet oddly familiar. Basically, read this book.
But if you need an extra incentive you can grab our signed and exclusive bookplate for volume one in store and online here from Wednesday.
Try it if you like – Remender's Image Work/Studio Ghibli/Birthright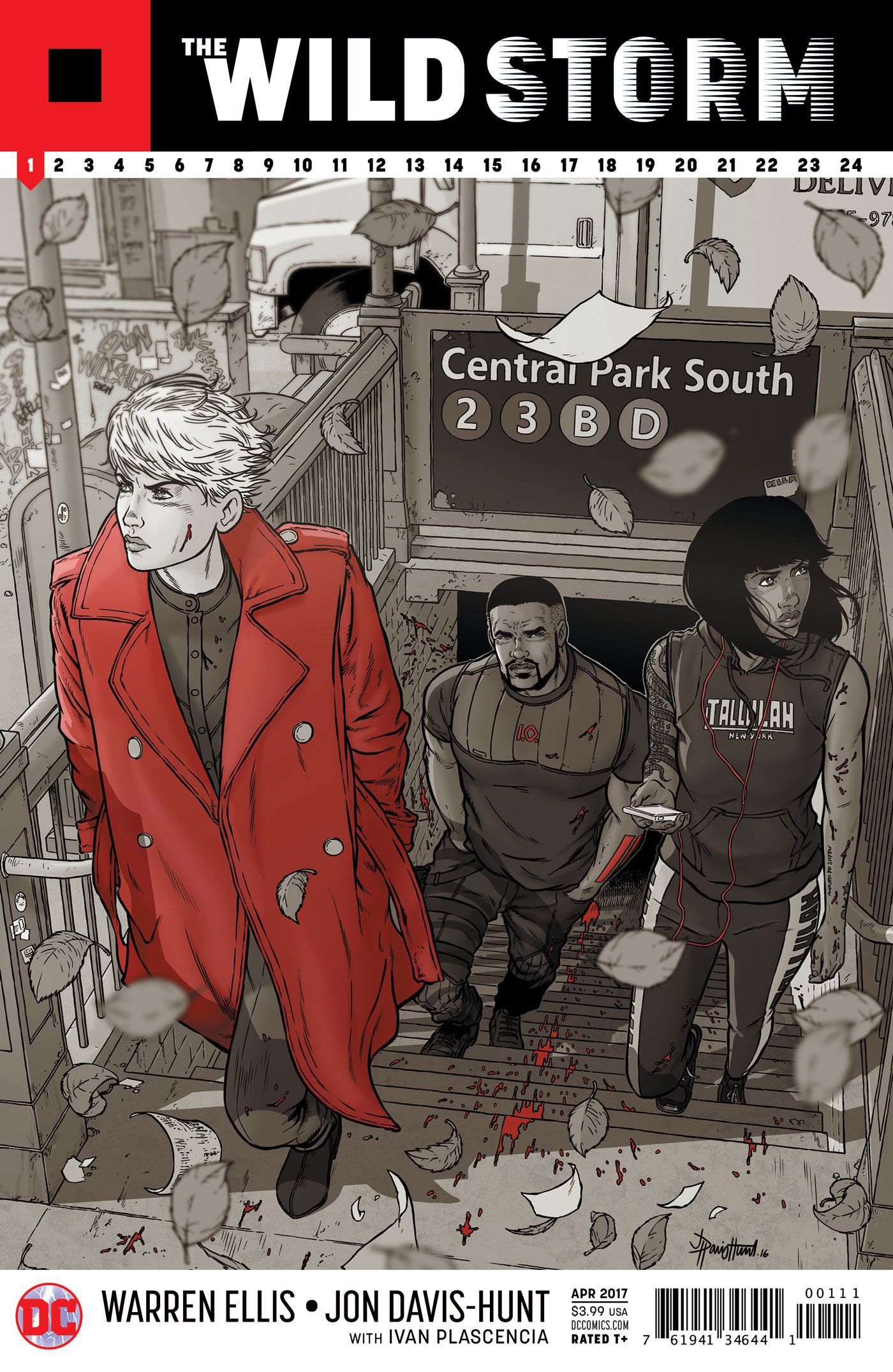 Wild Storm #1
Writer: Warren Ellis
Artist: Jon Davis-Hunt
New York Times best-selling writer Warren Ellis returns to DC to curate Jim Lee's WildStorm world, with this debut issue resetting the WildStorm universe with new iterations of Grifter, Voodoo, the Engineer, Jenny Sparks and others. We have huge hopes for this series, not just because it might be a potential successor to the much loved and critically acclaimed Ellis run of Authority, but with Ellis' renewed passion for the medium and the stellar work he has been putting out over the last few years this could be phenomenal. But with 2000AD alum and current Vertigo artist Jon Davis-Hunt on interiors we can guarantee this is going to be gorgeous.
Try it if you like – Injection/Jupiter's Legacy/Clean Room
Batwoman Rebirth #1
Writer: Marguerite Bennett & James TynionIV
Artist: Ben Oliver
The newest chapter of Batwoman's life begins here in this one-shot prologue to the first big Batwoman epic in this new Rebirth age. Artist supremo Ben Oliver and mega star writers Marguerite Bennett and James Tynion IV will have Batwoman face new challenges, new enemies, and a new beginning in the wake of the "Night of the Monster Men" event. And it all starts with the corpse of the mega-monster that collapsed in Gotham Harbour, creating Gotham City's newest and most dangerous neighbourhood, Monstertown!
Try it if you like – Detective Comics/Captain Marvel/DC Bombshells
Leave Me Alone HC
Writer/Artist: Vera Brosgol
Leave Me Alone is a slyly clever and exquisitely funny modern folktale perfect kids both big and small. It's charm and characterful illustrations are certain to warm even the coldest of hearts during this cold and gloomy February. Vera Brosgol, creator of the phenomenally popular YA graphic novel Anya's Ghost, brings a fresh and interesting perspective to the ever evolving world of childrens books and is well worth your attention.
Try it if you like – I Want My Hat Back/Anya's Ghost/King Baby
Galaxy's Greatest: Four Decades of 2000 AD & Thrill Power Overload 2000 AD Redux HC
Writer: Various
Artist: Various
A double whammy of 2000 AD based goodness for you this week as a wee belated birthday gift to the British institution that celebrated 40 years this month. First Some of British comics' top creators pick their favourite one-off stories from 2000 AD's forty year run in Galaxy's Greatest. Ranging from humorously twisted Future Shocks to the dystopian escapades of Judge Dredd, this loving tribute shows just how inspirational 2000 AD has been to both generations of readers and some of the greatest comics creators to come out of Britain.
Then we have David Bishop & Karl Stock's Thrill Power Overload which is the definitive warts'n'all history of the company. This redux edition is updated, expanded and revised version charting 2000 AD from its humble and somewhat rocky beginnings, through eras of prosperity and controversy, to its current position as the Galaxy's Greatest comic.
Try it if you like –Tharg does not care for your desires, he simply demands you read these powerful tomes!
Flight of The Raven TP
Writer/Artist: Jean-Pierre Gibrat
Jean-Pierre Gibrat's lushly coloured graphic novel is perhaps one of the most stunning books to hit our shelves this year. Taking place in Paris during the German occupation. Flight of The Raven stars a memorable heroine, Jeanne,  who as part of the French Resistance tries to save her captured comrades, including her sister Cécile, from the Gestapo.
Try it if you like – Corto Maltese/Century's End/Blacksad
Super Sons #1
Writer: Peter J. Tomasi
Artist: Jorge Jimenez
The teenage sons of DC's biggest heroes, Superman and Batman, get their own ongoing series. This debut issue focuses on the lives of Robin and Superboy as they take the first tentative steps to move out of their fathers' shadows. This is DC making a super fun, super exciting, teen-centric book in a similar vein to something like Marvel's ridiculously popular Ms Marvel or Nova. Head over to CBR if you want a sneak peak at some of the glorious interiors Jorge Jimenez is bringing to the table for this book.
Try it if you like – Teen Titans/Ms Marvel/Robin Son of Batman
Once Our Land TP
Writer/Artist: Peter Ricq
You may have missed the amazing debut comic from hot new creator Peter Ricq when it was coming out in single issues as they used to always sell out in the blink of an eye. But this week is your chance to see what all the fuss was about and what you had been missing. Once Our Land is a young adult post-apocalyptic tale set in 1830s Germany. It's tonally akin to something like the Dark Crystal, a slightly menacing kids fantasy. It is the tale of two survivors, Ingrid and Fritz, as they battle each and every day against mysterious invaders that have surfaced and wiped out everything they once knew.
Try it if you like – Porcelain/Lumberjanes/Anya's Ghost
Magical Character Rabbit One Shot
Writer/Artist: Kinoko Evans
Magical Character Rabbit  is the latest offering from the always excellent Study Group. It's the whimsical story of a young Magi who lives in an enchanted city full of wizards, witches, and warlocks, who finds herself on a quest to find the perfect spell. An engaging, all ages fantasy for fans of Richard Scarry, Hilda, and Steven Universe!
Try it if you like – Adventure Time/Geis/The Hunter
We Are Family HC
Writer:  Patricia Hegarty
Artist: Ryan Wheatcroft
All families are different – and yet in many ways the same and that's at the centre of Wheatcroft and Hegarty  book, We Are Family. Using a gentle and lyrical rhyming text the book follows eight very different families, celebrating their everyday differences as well as the similarities they share that connect them all. Brilliantly charming, honest and so full of heart this is a book that not just every kid should read but maybe, just maybe everyone should.
Try it if you like – Everybody's Welcome/There's A Monster In Your Book/Tree: Seasons Come Season Go.
ALSO OF NOTE THIS WEEK
. Angel Catbird HC 02 Castle Catula – Legendary novelist Margaret Atwood and acclaimed artist Johnnie Christmas return with a second volume of the hybrid hero.
. Another Castle Grimoire TP 01 – This ain't no damsel in distress story. This is kick ass princesses saving the day. A collection of the recent
. Batgirl A Celebration of 50 Years HC –  Batgirl's greatest adventures are collected in this new hardcover as DC pay tribute to 50 illustrious years of Batgirl.
. Deadpool and Mercs For Money TP 01 – The All-New Mercs for Money. You'll go bananas for them, and not just because they have an ape and a monkey on the team.
. Doctor Strange #1.MU – The Sorcerer supreme enters the fray as the Monsters are unleashed.
. Future Quest TP 01 – Hanna-Barbera's best-known action heroes save the day as Johnny Quest, Space Ghost, the Herculoids and more are re-imagined in this brand new collection.
. Scooter Girl TP – Take a ride to southern California and experience Chyna Clugston Flores' screwball dark comedy classic in full colour.
. Superman Action Comics TP 01 – The first Action Comics collection since returning to it's old numbering.
. Vikings TP 01 – Based on the top-rated History Channel television series. This first volume collects Vikings #1-4.
UPCOMING HIGHLIGHT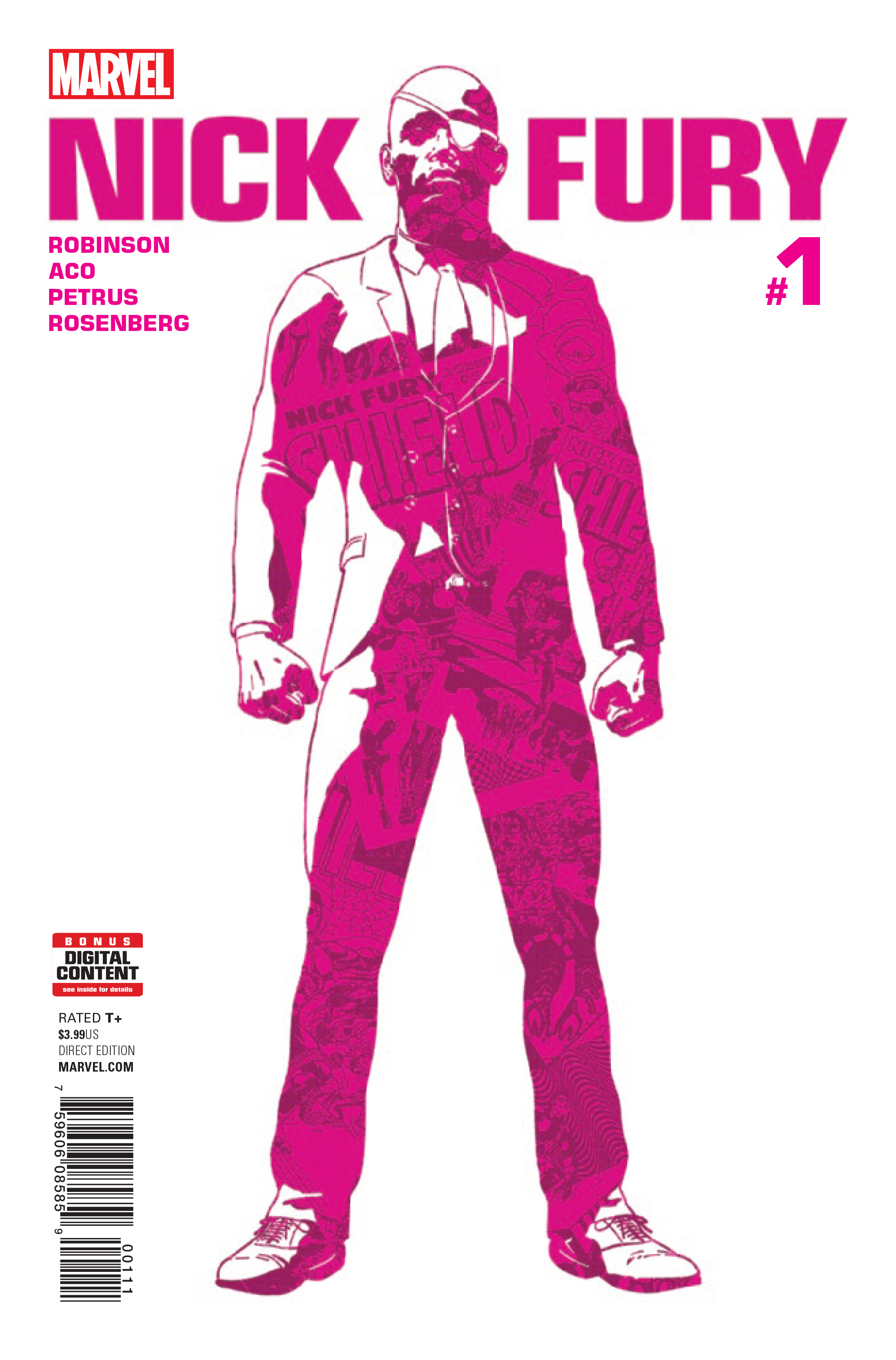 Appearing in the latest previews, ACO and James Robinson's brand new solo Nick Fury comics looks stunning. From the looks of early preview art it's clear ACO is bringing some modern day psychedelic influences, channeling Kirby and Steranko.
This is a creative team who both have a lot of love for the pop art, bold graphic style of that era. The series will see Fury as S.H.I.E.L.D.'s a lone agent, their perfect spy.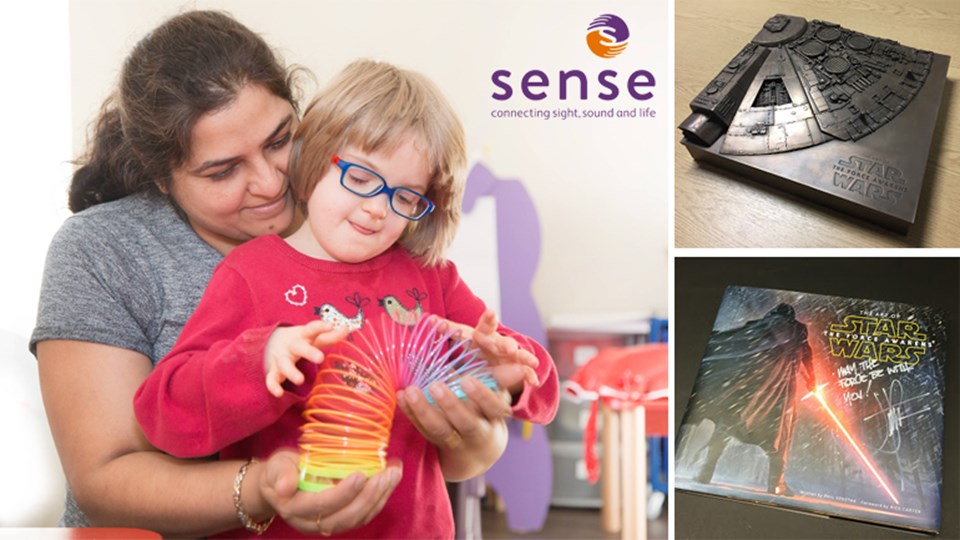 The wonderful national charity Sense, who supports people who are deafblind and have sensory impairments are currently involved in a really exciting fundraising appeal that we thought might interest you and help a great cause. A supporter of the charity is running a fundraising contest where one lucky contributor could win a Star Wars art book containing the signatures of movies cast and crew  including Harrison Ford, Daisy Ridley, Mark Hamill, Carrie Fisher and JJ Abrams. If you'd like the chance to win and to help out a brilliant organisation at the same time you can find all the details here.
 Adios!
Andrew & Shaun.