Hello!
The events are coming thick and fast here at Gosh! Last Friday we had Katie Green in to celebrate the release of Lighter Than My Shadow, her new autobiography from Jonathan Cape.
While we're showing you pictures from recent launches here are some shots from our recent event for Isabel Greenberg's Encyclopedia of Early Earth.
All of these pictures are courtesy of Mauricio Molinare de Souza our current photographer-in-residence and all-round good egg.
This Friday you can flash Mauricio a smile while brandishing a glass of wine and a copy of The Lengths, Howard Hardiman's new book from Soaring Penguin.
It's another excellent bookplate edition this week in the form of Seth's Palookaville Volume 21, a lovely hardcover collection of short pieces, including a continuation of Clyde Fans. As usual, the plate is limited to 200 copies, signed and numbered by the man himself. Details aplenty here.
Any time an Osama Tezuka book appears is a time for celebration and this week we can all be cheered by the arrival of the first volume of Triton Of The Sea. It's a fantastical tale of myth and misfortune and features a pretty determined looking dolphin on the cover.
Lazarus was a title that seemed guaranteed to become a smash. Written by Greg Rucka, with art from Michael Lark it has the sort of high concept that screams HBO/Showtime/AMC adaptation and has a suitably vivid and glossy finish to the whole affair. A blend of warring families, class conflict and the triumph of rapacious techno-capitalism makes this a compelling read and Lark's visuals are gorgeous. It looks like Image couldn't wait to get a collected edition out there and the first volume is out this week.
'The Usual Gang of Idiots' bring us Intensely Dumb Mad, the latest collection drawn from America's favourite humour mag.
Colonised from Chris Ryall and Drew Moss is a smart genre blend with invading aliens landing in the middle of a zombie apocalypse and getting dragged into a three way battle with the undead hordes and the separatist militia camp the zombies have laid siege to. CBR talked about it here.
Another book with a nice twist on Sci-Fi tropes is God Hates Astronauts, Ryan Browne's story of a superpowered team assembled by NASA to keep farmers-turned-backyard-astronauts out of space. Ryan Browne talked to CBR about it here.
UXB from Colin Lorimer also takes a fresh look at some well-covered ground, telling the story of three brothers in post-apocalyptic London that have acquired experimental 'life suits' that could hold the key to restoring civilisation but these guys have chosen to squat in Buckingham Palace and play video games until the whole mess blows over.
The rise of Kickstarter continues with Molly Danger from Jamal Igle, the crowdfunded tale of a child-like superheroine with a dark secret. Jamal talked to Gail Simone about the project here.
The mission of Fantagraphics to reprint every Peanuts strip in chronological order inches closer to it's end with the release of the 1989-1990 hardcover and the 1987-1990 box set this week.
Former 'Nam artist Wayne Vansant has a couple of books based on slightly older conflicts out this week.
Bombing Nazi Germany focuses on the Allied bombardment of Germany during the Second World War while Grant Vs. Lee looks at the American Civil War.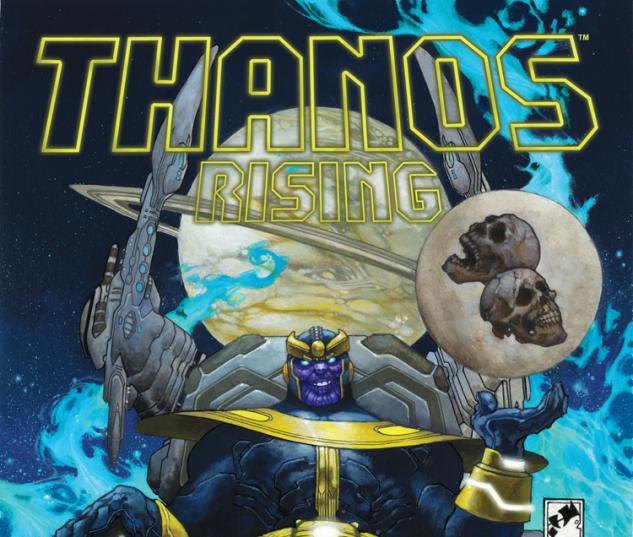 Thanos Rising from Jason Aaron and Simone Bianchi is the latest phase in Marvel placing the Mad Titan front and centre ahead of his appearance in the second phase of the Marvel Cinematic Universe and is essentially Thanos: Year One.
An older Marvel miniseries that is seeing a collected release this week is the Storm strip from Warren Ellis and Terry Dodson that deals with the legacy of Ororo's short time as the leader of the Morlocks.
There's a nice collection of Wallace and Gromit Newspaper Strips in a swish hardcover edition out this week.
Victor Gorelick and Craig Yoe were the team that bought you The Art of Betty and Veronica and this week they have The Art of Archie Covers, a selection of cover images from the incredibly popular and resilient Riverdale gang.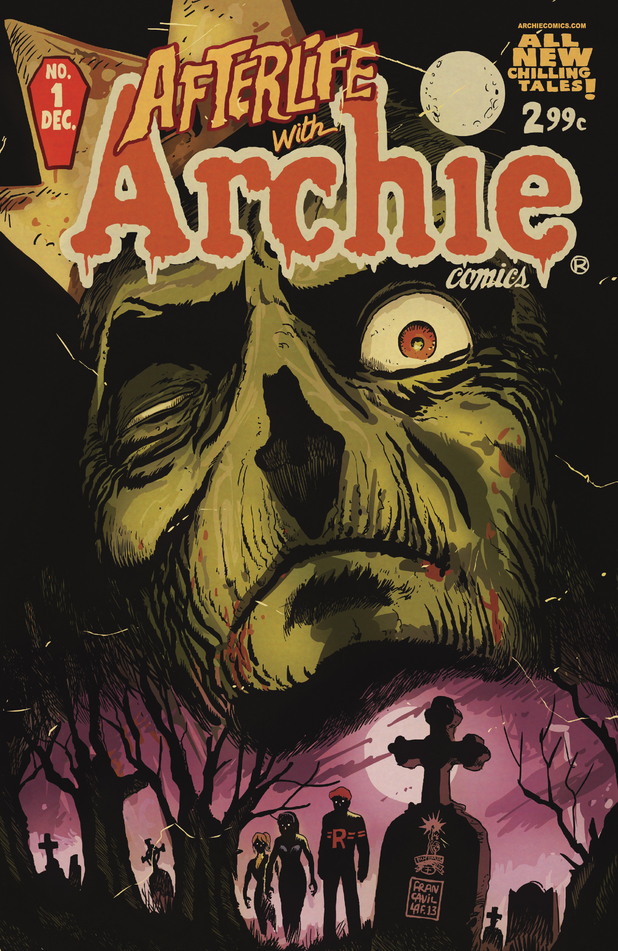 Archie is leading the charge in new comics this week as well with the arrival of Afterlife With Archie, which sees Archie and Jughead et al facing a zombie invasion in Riverdale. Written by Robert Aguierre-Sacasa with art from Francesco Francavilla this should be the perfect Halloween gift for any Archie fans out there. There's a nice review here.
Coffin Hill is another dark tale from Vertigo written by Caitlin Kitteridge with art from Inaki Miranda that deals with a family cursed since the days of the Salem Witch Trials. There's a preview here.
Walt Flanagan and Bryan Johnson are best known as the stars of AMC's Comic Book Men but when they're not selling comics they are making them as well. Their latest is Cryptozoic Man from Dynamite which deals with alien abduction, cryptozoology and other Fortean goodness. There's a preview here.
If you're looking forward to that one you might also enjoy Memory Collectors, a new series from menton3 that sees a group of fetish models turn monster hunters when they uncover a secret race of nasties that feast on our memories.
Have a look at a preview here.
John Byrne's Trio was a welcome return to superhero comics and the follow up to that popular series is Triple Helix.
If you were down for Trio on your Standing Order we'll make sure there's a copy of Triple Helix filed away for you.
IDW profiled the series here.
Death Sentence is a new superhero book with a twist, written by Monty Nero with art from Mike Dowling.
A disease has infected huge swathes of the population which gives you superpowers…and six months to live.
Elfquest: Final Quest is a new story from Wendy and Richard Pini that is coming out from Dark Horse.
ComicsBeat looked at the history of this legendary series and what the move to Dark Horse means here.
Dark Horse are also bringing us some more of Geof Darrow's Shaolin Cowboy this week. There's a preview of it from CBR here.
Brandon Graham's Multiple Warheads Down Fall collects some of the early, hard to find appearances of Sexica and Nikolai as they travel through a war-ravaged Russia.
Another Kickstarter triumph lands this week in the form of Rocket Girl, a Sci Fi conspiracy tale from Brandon Montclare with art from Amy Reeder. There's a preview for it here.
Hi Fructose #29 is the usual mix of cutting edge illustration and artwork from the likes of Ken Garduno, Georgia Russell and Ikeda Manubu.
Kieron Gillen's prodigious output continues unabated with the arrival this week of Three, his take on the world of ancient Sparta that was used to such great effect in Frank Miller's 300. Gillen inverts the idea of a small band of Spartans holding back hordes of invaders by taking three runaway slaves who have to use their wits to stay one step ahead of the massed ranks of Spartan warriors that are on their trail. The art comes from Ryan Kelly and there's a feature on it at Newsarama here.
This week's major release from The Big Two is Superman/Wonder Woman from DC. Written by Charles Soule with art from Tony Daniel it's a book that showcases two iconic characters, explores the development of their romantic relationship and looks to be testing the waters for an appearance for WW in the upcoming Batman/Superman movie.
See you next week!
- Steve