ILYA (aka the ever-brilliant Ed Hillyer), is releasing a new book through SelfMadeHero, and if that doesn't warrant a Gosh! launch party then we just don't know what does.
You probably know his work even if you think you don't: ILYA's appeared in publications by Deadline, Vertigo, Dark Horse, and many other places. His most famous work is the character Bic, who appeared in his self-published comics and was collected under the name Skidmarks, then found a new home in the End Of The Century Club.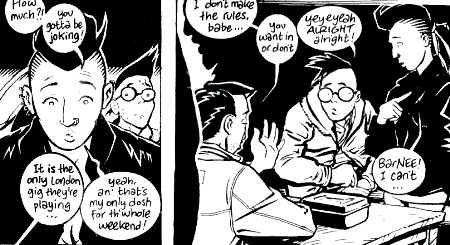 Here's a quote from SelfMadeHero about Room For Love:
"Romance is dead." So says Pamela Green, middle-class and middle-aged – a romance novelist suffering from writer's block. Then, on a bridge crossing over the river, her unsettled life collides with that of a ragged young man. He's survived for months on London's streets, by his wits…and his looks. Under extraordinary circumstances Pamela invites him into her comfortable suburban home. There, in spite of their obvious differences, they soon come to form an unlikely partnership, once separate lives revived in stark new directions…

An intense hothouse drama, fierce, true to life, ROOM FOR LOVE is an Original Graphic Novel unafraid to play with fire."
The launch party will take place on Friday, November 15th, and we'll toast to the book with some beer and/or wine (though I really wouldn't recommend mixing your drinks). If you can't make it but would like a signed copy of the book, go on and drop us a line at info@goshlondon.com and we'll reserve one for you. Go on! Otherwise – see you there!
Room for Love by ILYA – Launch Party
Friday November 15th from 7pm to 9pm
At Gosh! Comics, 1 Berwick Street, Soho, W1F 0DR