Folks, it's our favourite time of year! Which is, of course, the time our favourite convention, the Thought Bubble Festival (one of the best and most diverse comics and arts festivals in the UK) comes around – and this year, just like the last, we're working in conjunction with those guys to bring you the best events we can put together.
So, together with Thought Bubble, we proudly present a BEHEMOTH of a signing – featuring three of Image Comics' biggest and brightest. Join us on the Friday, the 22nd of November, and meet Brandon Graham (Prophet, King City), Fiona Staples (Saga), and Eric Stephenson (Nowhere Men).
Here's what you need to know about the three of them:
Brandon Graham started out as a graffiti artist and was one of the co-founders of the indie comics collective Meathaus, and to this day draws some of the most vivid and offbeat comics on our shelves – if you haven't read the Eisner-award-nominated King City or his series Multiple Warheads yet, then you have surely heard of the amazing work he's done on the Prophet relaunch.
Fiona Staples, having worked on Mystery Society with Steve Niles in the past, has recently risen to comics super stardom with her work on the immensely popular Saga (written by Brian K. Vaughan). She's designed all the costumes, creatures, settings, and space ships in the epic space opera, as well as doing all the heavily computer game and anime-influenced colouring herself, topping each issue of with beautiful painted covers. If you're not reading Saga yet, you've got to sort that out ASAP – it's one of the best series on the shelves at the moment.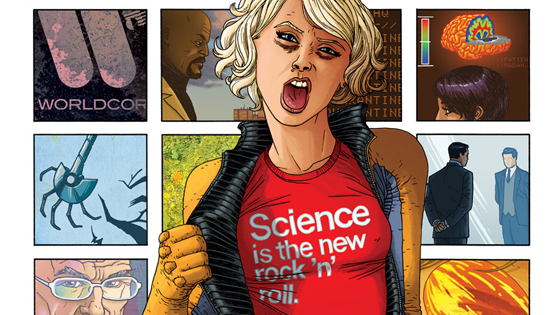 Eric Stephenson is the Publisher at Image comics, where he has been a mainstay since the early days, and is currently writing the science fiction series Nowhere Men (tagline: "Science is the new Rock and Roll") with Nate Bellegarde on art duties and Jordie Bellaire as colourist. iFanboy had this to say about issue one: "Through the stellar design and art, Nowhere Men #1 becomes a complete experience that's unlike anything else on the stands and it off to a great start." The first collection of Nowhere Men should be out in time for the signing, so we highly recommend picking it up and getting it scribbled in by Stephenson.
Thought Bubble runs from the 17th to the 24th of November in Leeds, with the comic convention itself taking place on the 23rd and the 24th. If you're there and not here, have a gander at their full programme here – our Tom will be hosting some interesting panels and exhibiting with his publishing company Breakdown Press, and our Mike and myself (Julia), will be there as exhibitors selling our own small press comics at the convention.
The signing on the 22nd of November runs from 5pm to 7pm. We've only got these three for a strictly limited time until they're whisked off to Leeds, so we're not going to be able to take reservations on this one, I'm afraid. If you can't make it, hit up someone who can. And if you can make it, see you there! It will be a fantastic one.
The Image Triple Signing with Brandon Graham, Fiona Staples, and Eric Stephenson
Friday November 22nd, from 5pm to 7pm
Gosh! Comics, 1 Berwick Street, London, W1F 0DR